| | |
| --- | --- |
| | Read about some recent activities below. Older news articles are available here. |
---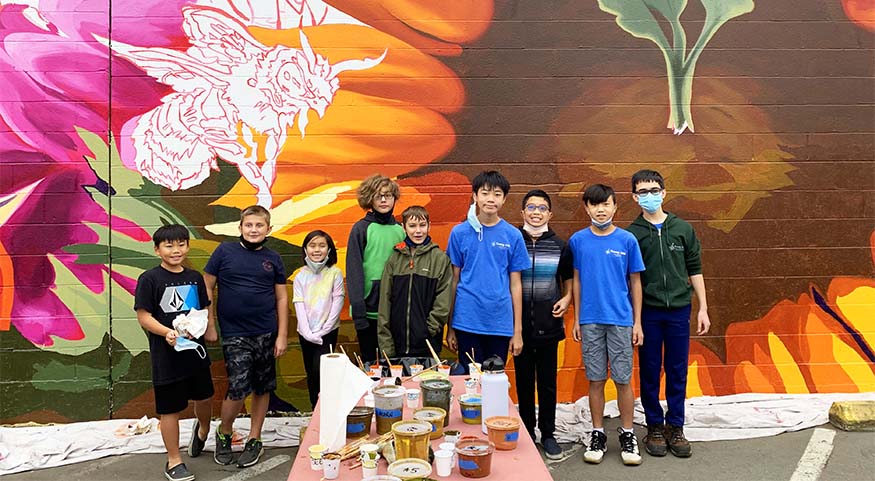 Volunteer service is a very important part of scouting, and on December 4 the scouts of Troop 259 had an opportunity to participate in District 5's mural in Hollywood Park. Lead artist Jaya King designed an elaborate mural which reflects elements of nature that is connected to the local area. In a color-coded paint by number system, the scouts were able to paint various parts of the mural to add their mark to a new neighborhood landmark.
---
Sacramento Historic Trails Hike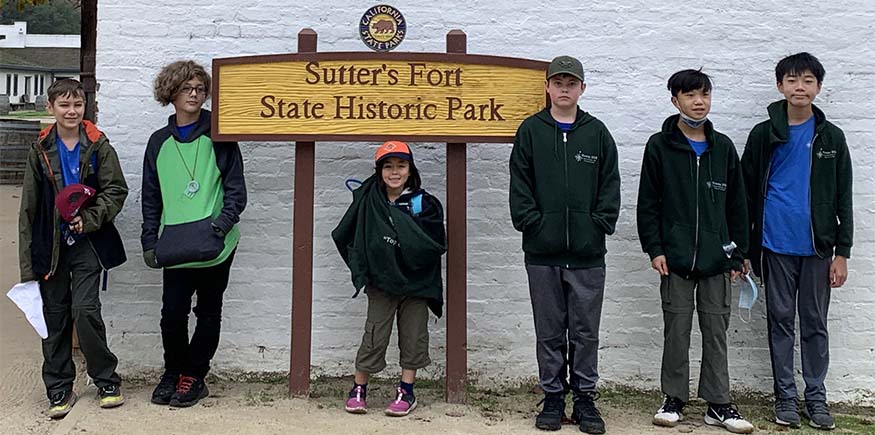 On December 4, Troop 259 completed the Sacramento Historic Trails Hike. This particular award retraces the historic route that John Sutter had cut out from the port of Old Sacramento to Sutters Fort. The scouts passed numerous historical sites including the Sacramento Railroad Museum, Sutters Fort, The State Capitol, The Stanford House, and Crocker Art Museum. The hike is a great way to let kids learn the vast amount of history that City of Sacramento has to offer.
---
Indian Grinding Rock Campout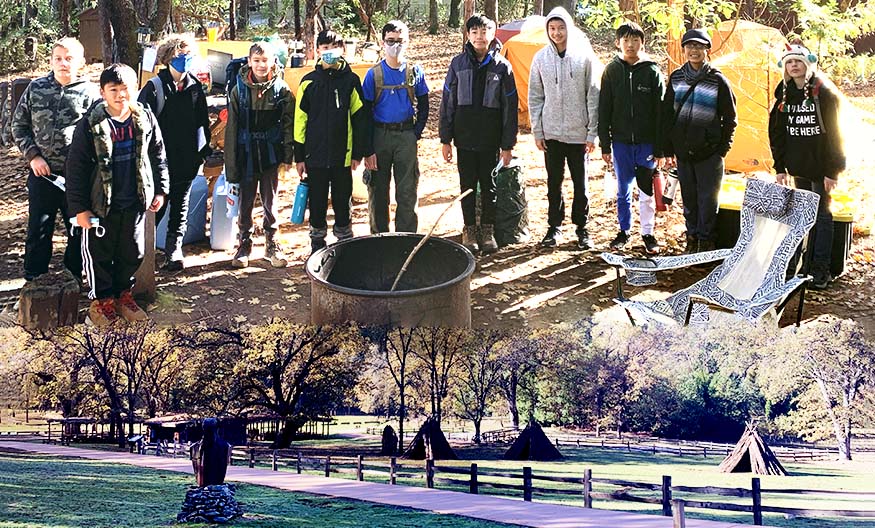 On November 17, 2021 Troop 259 went camping at Indian Grinding Rock State Historic Park in Pine Grove CA. The park was created in 1968 and preserves a great outcropping of marbleized limestone with some 1,185 mortar holes -- the largest collection of bedrock mortars in North America. The troop took a 5-mile hike around the park that had an Indian Museum, recreated bark structures, and hundreds of native plants that you can identify along the self-guided trail. The scouts had an opportunity to work on many requirements that can only be done on such outings.
---
Big Trees State Park Campout, by Alex F.





On the 1st of October, the scouts of troop 259 went to Calaveras Big Trees State Park. This campout was the first for two scouts. Also, some scouts had gone to an abandoned shack, played capture the flag and, explore. Next, we had done a mile hike to identify 10 types of plants. We had also made stations to complete requirements. Since we were in bear country a camper had told us they had seen a bear and cub near our site. As a troop, it was another productive campout to get requirements done.
---
Community Service at William Land Park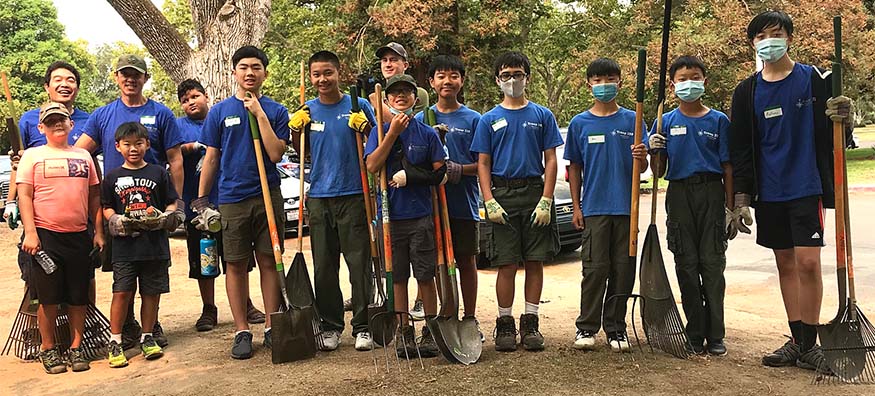 On August 7, 2021, Troop 259 helped the Land Park Volunteer Corps (LPVC) with William Land Park maintenance. The LPVC provides a valuable sertice, helping City Parks staff keep the 160 acre William Land Park looking beautiful. We removed weeds, raked, and tidied up part of the park's Swantston Garden area, which features a fountain and many colorful plants. The LPVC kept us hydrated with ice-cold water and Gatorade, and also treated all volunteers to a barbecued hamburger and hot dog lunch. After lunch, the Serpent Patrol met to plan Patrol Agendas for the next few months.
---

Wente Scout Reservation Summer Camp, by Michael W.





On June 11, 2021, Troop 259 went to Wente Scout Reservation for Summer Camp. This particular summer camp was the first summer camp for all the scouts, and was even the first campout for one scout. There were many activities to participate in at the campout including mountain biking, mountain climbing, swimming and even horse riding. This campout was very productive and eventful. During this week long trip, each scout that went got at least 6 merit badges. As a troop the scouts completed 65 merit badges and received 9 partial merit badges. It wasn't all work however, there were many fun experiences, such as the Wentathelon. The Wentathelon is a camp-wide competition where participants from troops compete in activities to see who can do them the fastest. There was also a time when our Scoutmaster brought ghost pepper hot sauce. Everyone was using the tips of the forks to taste it. Everyone that had it was suffering. Also Wente offered an event called the Wooly Wash where campers could wake up at 6 am to swim in the lake for at least 3 days to receive an award. We had 7 different troop members complete the challenge. There was a lot of wildlife that would roam freely around the camp as well. Our troop spotted deer, foxes, giant squirrels, many lizards, and a sleep paralysis demon. Overall, this trip was a great experience and I hope that the next summer camp will be as much fun as this one. View some of our Camp Wente activities here.
---
Silver Lake Campout, by Michael W.



On June 25, 2021, Troop 259 went to Silver Lake. During this campout, we simulated a backpacking trip and went to the potholes. One pothole was so deep that people were jumping into it, trying to touch the bottom, however, no one could. We later went to the lake and played for a while. One memory I had was people trying to catch minnows in the water. Troop 259 also fulfilled many requirements. An example of this is a scout building a tripod. At night, we viewed several constellations. During this camping trip, there was a Lunar Eclipse that certain scouts were able to see. Overall this camping trip was very productive, and a lot of fun. 
---
Flag Day Ceremony at the Elks Lodge



Troop 259 participated in Flag Day Ceremonies at the Elks Lodge, on June 14. In 1907, the Grand Lodge of the Benevolent and Protective Order of Elks designated June 14 as Flag Day, and in 1911 adopted mandatory observance by every Lodge. In 1949, President Harry Truman (an Elks member himself) proclaimed that June 14 be a day for national observance for the symbol of our country.
Following the Flag Day Ceremony, scouts conducted a Flag Retirement Ceremony, to properly retire several flags which have become worn and are no longer serviceable. You can view a short video on our Media Page.
---
Sunset State Beach Campout, by Michael W.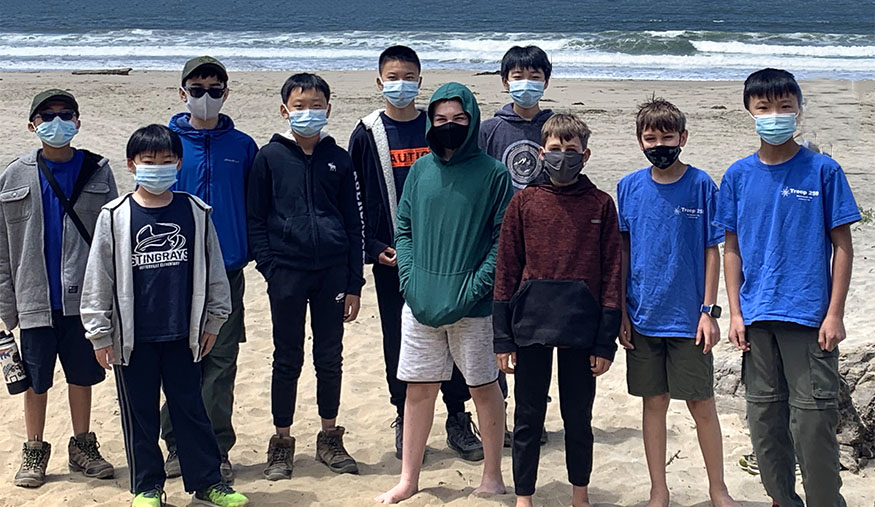 Troop 259 traveled to Sunset State Beach in Watsonville for our first official campout of the year. During this trip, we identified 10 animals on the seven mile hike along the beach. One of the scouts was able to find clams along the hike, and he cooked them for dinner. Also, many of the scouts went geocaching. This activity consists of going to a specified location, and in a certain area, looking for what is called a geocache. This activity was a great way to introduce new scouts to the program. This trip was a lot of fun and was nice to finally get an opportunity to get out of the house.   
---

Garcia Bend Cleanup, by Michael W.



On May 22, 2021, Troop 259 went to clean up at Garcia Bend Park. 5 scouts and 3 parents participated at the clean up. Together, we were able to clean a total of 8 bags of trash, in a total of 2 hours. We started at the park, and later traversed to the trail. Later going to the levee. Along the way, there were many people that were supportive of the scouts cleaning efforts, and took the time to thank us for our efforts. In the end, it was a good experience, being able to clean up much of the area and I hope we are able to do this again. 

---
Congratulations, Eagle Scout Joshua Watson



Troop 259's newest Eagle Scout is Joshua Watson, in the Serpents Patrol. For his Eagle Project, Joshua and his team constructed a Memorial Bench in memory of First Lady Kay Mitchell, for the Antioch Progressive Church in Sacramento. Deacon Roy Bradley signed off as the beneficiary representative, and also lent a helping hand with construction. Due to Covid restrictions, Joshua completed his Eagle Board of Review via videoconferencing on March 17, 2021. Congratulations to Joshua, the troop's 188th Eagle Scout!


---

February 6th was a "Super Saturday" event, with the troop holding three major activities. The Shred and E-waste recycling event helps fund items such as tents, camping equipment, and summer camp. Thank you to the community for coming out to support Troop 259 by shredding your confidential documents, and keeping electronic waste out of the landfill.
The STEM event introduced Cub Scouts to Science, Technology, Engineering, and Mathematics concepts. Scouts participated in a variety of projects, including construction of a catapult. They learned how engineering and simple machines, called levers, affect everyday life.
Here are a few "Super Saturday" pictures.

---

Congratulations to Christopher Fong, Troop 259's newest Eagle Scout. Due to the pandemic, Christopher's Eagle Board of Review was conducted virtually, via Zoom on September 30, 2020. He becomes Eagle Scout #187 and is the last of the original Ice Dragon Patrol scouts who bridged from Pack 259. Christopher's Eagle project involved designing and leading the construction of two wood benches, to be located in the sanctuary foyer at the Chinese Community Church. The benches provide the elderly a place to sit and rest while waiting for Sunday service to begin. This Fall, Christopher will study Civil Engineering at Cal State Pomona.
---
Welcome New Scouts! - Pack 259 Bridging Ceremony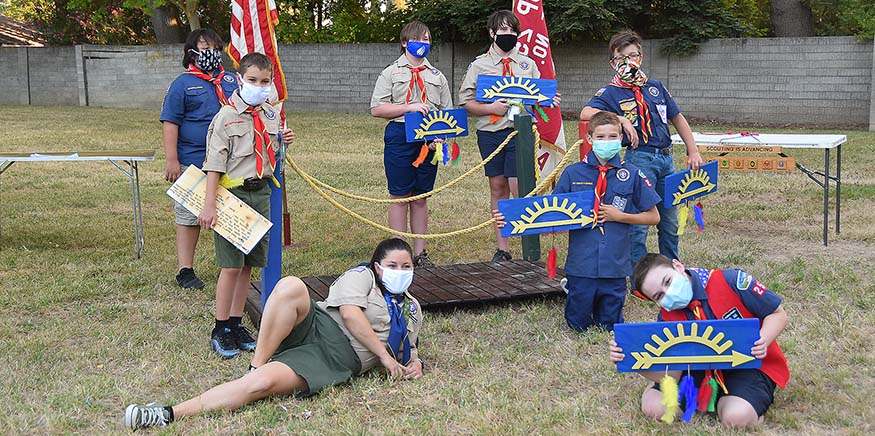 On July 13, we welcomed Webelos II scouts into Troop 259. Pack 259 conducted an outdoor Bridging Ceremony -- with proper social distancing and face coverings, of course, Cubmaster Julia Hawkinson presented the Arrow of Light awards. The Arrow is straight and narrow, just as the path that scouts should follow throughout their lives. Its tip points the way, the way to success in all that scouts do. It is pointing to the right, a symbol that nothing should be left undone. If it is within your power to do it, see that it is done. And lastly, this is the symbol of the seven rays of the sun, one for each day of the week; this is to remind scouts that every day is a new day, a day to Do Your Best in everything. Each of these boys has blazed his own trail toward the Arrow of Light and now the Arrow of Light will help them remember their promise to keep the Spirit of Cub Scouting alive.
After each scout crossed the bridge from Cub Scouting to Boy Scouting, their parent affixed the Troop 259 neckerchief and slide. The ceremony concluded with pictures and ice cream-to-go. Congratulations and welcome to Troop 259! View some photos of the ceremony here.
---
Troop 259's Newest Eagle Scout, Anthony Wong




Anthony Wong became Troop 259's newest Eagle Scout on Febriuary 20. Anthony is currently the troop's Senior Patrol Leader, leading his fellow scouts during meetings, campouts, and other activites. His Eagle project involved the design, construction, and installation of two library boxes. The boxes are located in high-traffic areas on Freeport Blvd near the new Raley's project. Neighbors report that the boxes are visited frequently and thus far have been restocked three different times by local users. As a unique feature, the boxes are built with reclaimed materials as a means to demonstrate sustainability.
---
Open House Tastes Good!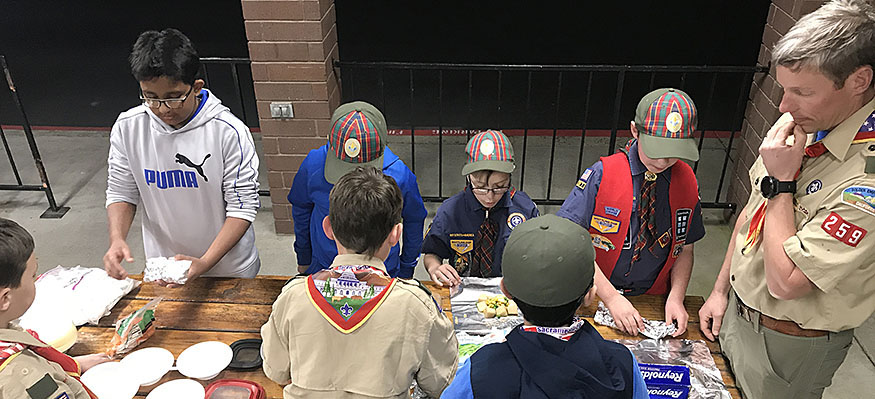 Thank you to parents, Webelos Scouts, and other visitors who attended our Open House in February. The scouts had fun with various activites and demonstrations including the Alligator Walk, Stretcher Relay, and Tug-of-War. And let's not forget Cooking, the most popular activity where scouts prepared a delicious "Hobo Meal" of vegetables, meat, and seasonings wrapped in foil and cooked in the campfire. While the scouts were busy, Scoutmaster John Pitcher presented a Troop 259 overview to parents. The evening closed with a Troop Circle where scouts learned about advancement opportunities to reach the goal of Eagle Scout.
---
Summer Camping in Oregon





Oregon's Camp Makualla was the site of this year's summer camp. Story coming soon. Meanwhile, check out a photo album of our adventure!
---
July 4th Pocket Parade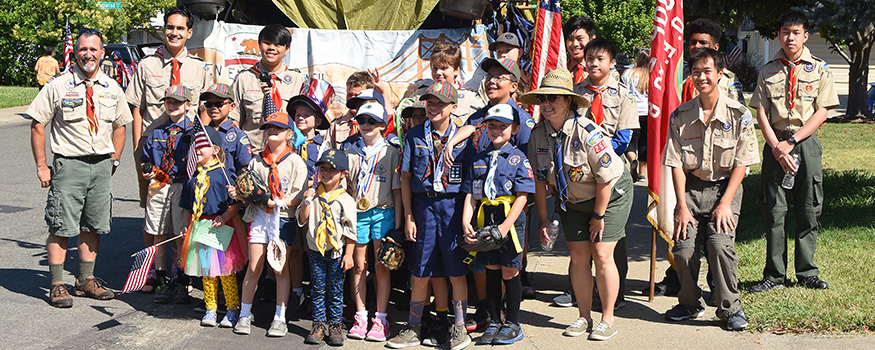 Troop 259, along with Pack 259 marched in the annual 4th of July Pocket Parade. Both groups had excellent floats display the fun and activities of Scouting. The weather was perfect as the parade made its way along Windbridge Drive to Garcia Bend Park, where a community festival and food trucks were located. Thank you to all scouts who participated and distributed Scouting information and stickers to boys and girls along the parade route.
---
Capital City Klondike Derby 2019,
by Anthony W.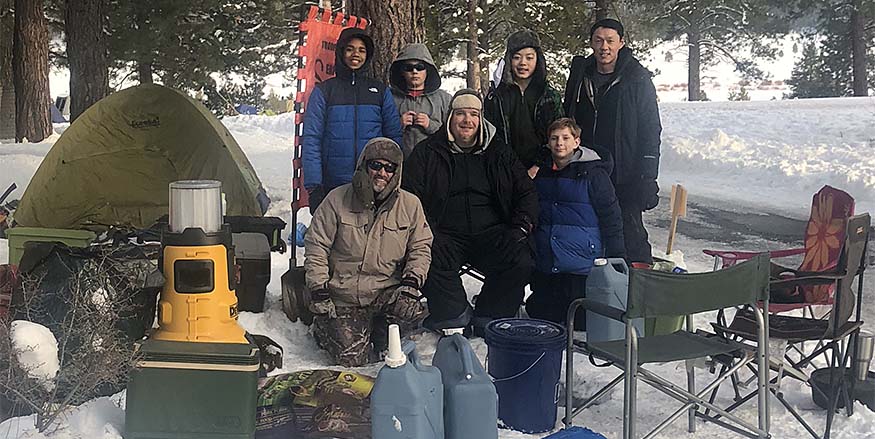 The Klondike Derby is an annual tradition amongst scouters, where troops from each council gather together to battle it out against one another in numerous scout competitions, all culminating in a sled race against one another. The Klondike is a true testament to being prepared for harsh cold conditions which tests the mettle of any scout willing to rise to the challenge. This year's Klondike Derby was no different.
This year Troop 259 only had 4 scouts that wanted to challenge the cold conditions and camp on over 2 feet of snow. What we lacked in number we made up with enthusiasm and determination. The memories of sleeping through temperatures of -4 degrees from the previous Klondike Derby deterred most from returning, but we managed to get one returning scout and three first time Klondike participants to go on the inter-troop competition. Fortunately this time the temperature only dropped to a low of a balmy -3 degrees.
That being said, the troop managed to complete a number of competitions and succeeded in not placing last in the sled race. Not too bad, considering the wood sled ended being a snow plow during the uphill sled race which took place upon up to 3 feet of fresh powder. An interesting side note is wet socks will freeze on your feet in -3 degree weather. Always make sure you have dry socks on snow campouts.
In all, everyone made it back alive and I am sure that every scout learned to never underestimate the elements and always double and triple check the conditions prior to leaving for a campout.
---